So I'm now 6 months in to my EngD, and it's been quite a learning curve! Coming into this straight from my undergrad masters I'd hoped to hit the ground running; establishing a solid plan for my project, whizzing through experimental work and obtaining some solid initial results. Who doesn't want to solve all of industries problems within their first year? As if that happened.
Starting anything new takes time to develop a feel for the work and establish a network of connections for who to talk to and where to go in a new place. Having spent six months doing just that, I'm about to submit my first progress report (literature and simple experimental stuff!) and am in a place where I feel that I've achieved a good foundation to do some really worthwhile research. As a summary, there are 5 key non research things I've learned about doing a doctorate.
1. No one is an expert straight away
It was easy to believe that starting a doctorate meant I had to be an expert in the field of research, which coming into an EngD with a Chemistry background was quite daunting. The first few months were really focussed on getting us all on the same page and building up our knowledge; taught courses and reading the literature were a good start. Although the thought that scientists discover things and engineers apply this and fix things is a simplification, it was interesting to see that our backgrounds gave us different approaches to a problem. In short, the nature of research means we'll be learning everyday and expertise is something we'll continue to build upon!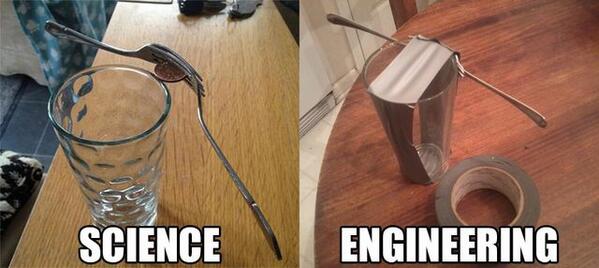 2. Talk to other students
Constant communication with supervisors is so important to help progress with a project, but I've found some of the most useful and reassuring advice came from talking to other students in the later years of their doctorate. They've just been through everything I'm doing. They know which lecturer to talk to about a problem and how early to start writing a report so you're not up to your eyeballs in caffeine the night before a deadline. They also know all the best snacks at a conference. You might be a post grad but students at heart always want free food! If ever in doubt, your peers are a great contact now and will be a useful network in the future.
3. Mistakes are good
One of the things I was told during my first meeting with my supervisors is that mistakes are a good thing! In research things go wrong all the time, it's only the smaller percentage of successful work that gets published. We need things to go wrong to help understand why and how things work, and build on this to produce some valuable research. History is littered with serendipitous events that led to some amazing scientific discoveries. Think penicillin, dynamite, rubber, microwaves, the list goes on! If Alexander Fleming had actually done his dishes the legendary tale of the discovery of antibiotics would never have occurred.
4. Make time for the rest of your life
It's easy to get wrapped up in a project, stress, overwork and have a bit of a breakdown. This particularly applies to students I've spoken to who are currently writing up their thesis! Maintaining a healthy work life balance seems to be a key piece of advice no matter what line of work you're in. Work hard during the day, then leave it at work and make time for yourself; see friends, family, go to the gym, go out, sleep! For me this means lot of sport and beaches. (Sorry not sorry for all of the sun, sea and sand pictures). Keeping the balance keeps you sane and healthy and also assists in productivity and efficiency at work.
5. Enjoy it
Lastly, one thing I have been told is to enjoy the doctorate! This may well be the only time in my life that I can focus on one project that I am particularly interested in and really go into depth in my research. Once work starts in industry I won't be working on the same thing for four years. So make the most of it!